What is Deadmonton House?
Deadmonton House is the first of its kind, professional haunted house located in Edmonton (South Central - 7031 Gateway Blvd.).
You can find more information on parking, our location and contact details here.
Why don't both haunted houses open at the same time?
The times posted on our website reflect the opening times for ICONS of DARKNESS. RETURN of the LIVING DEAD opens at dusk.
ICONS opens earlier as it is inside and we can shut the lights off, however, RETURN of the LIVING DEAD is outside and it's no fun going through a cemetery in the daylight!
How long will it take to get through each haunted house?
Once you get through the lineup (unless you have a speed pass), it should take approximately 20-25 minutes to get through ICONS of DARKNESS, and 8-10 minutes to get through RETURN of the LIVING DEAD. Please be aware that both are individually lined and you will have to wait in line for the next haunted house. You can choose to go into whichever haunted house you want first.
Is there an ATM?
There is an no ATM on-site however we accept cash, credit and debit payments.
Is there an age restriction?
The haunted house is recommended for ages 12+. All ages are welcome to go through the haunted house. However, no refunds will be given if your kid gets too scared. No exceptions.
Is there a way to avoid waiting in lines?
Yes, Speed Passes are now on sale!
How long are the lineups?
The wait can vary from night to night. We will NOT sacrifice the quality of our show to push people through the gates. Expect there to be a wait, especially the closer it gets to Halloween. There's nothing we can do about that. It's a normal occurrence within the haunted house industry. To avoid long lines please come earlier in October or you can purchase a Speed Pass.
Do you offer group discounts?
Unfortunately, we do not offer group discounts.
Can I take photos or selfies in the haunted houses?
No, you will be too scared to take a photo anyway! You will be asked to leave if you take photos or videos while in the attractions. Photos are permitted outside the haunted houses and there are many photo opportunities with some of our ghouls outside!
Is it scary?
Of course! It's what we do best!
If I get too scared, can I come back another time or get a refund?
All scares are final! No refunds will be given. No exceptions.
Will the creatures touch me?
Actors are instructed not to touch the living. However, the haunted houses are dark and it is difficult to predict the bumps in the night. You are not allowed to touch our actors. In general, the creatures will not touch you but at times it may happen accidentally.
How many people can go through together?
The maximum amount of people in a group is 5. Any more than that you will lose part of the experience.
Where can I park?
Parking is located in the lot west of Deadmonton Haunted House – on the west side of Gateway Blvd.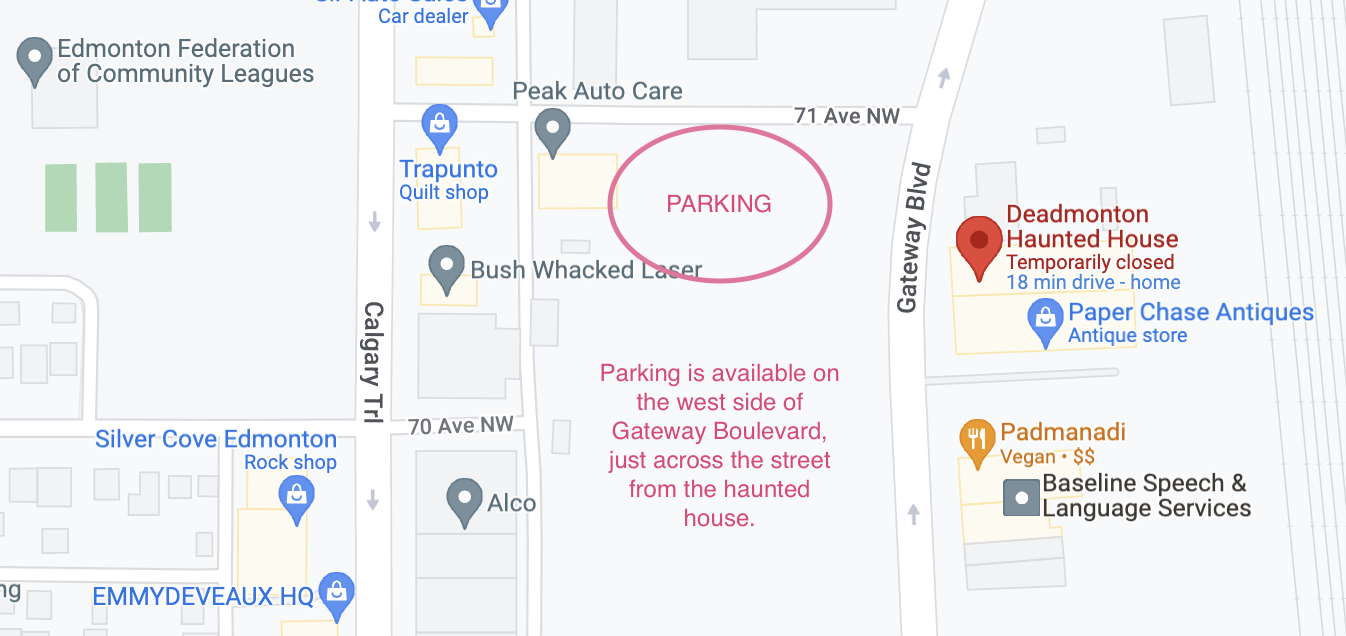 How can I be part of the Deadmonton Team?
We usually begin hiring in July. Make sure to check the website often and our Facebook page for upcoming events. Deadmonton offers a variety of fun seasonal jobs, not just actors! So come join our team!

Join Our Team
Is Deadmonton wheelchair accessible?
Unfortunately, Deadmonton is not wheelchair accessible at this time.
Can I go to Deadmonton if I'm pregnant?
It is not recommended due to low lighting and visibility which increases the risks of tripping or falling.
Can I wear costumes and masks to visit Deadmonton?
Costumes, masks and props are not allowed in the haunted houses for safety reasons.
Are you open if it's raining or snowing outside?
Yes! Rain or snow we are open during all posted hours. Our performers work rain or snow, therefore we are unable to issue refunds or change your tickets to another night due to the timed ticketing system.
Can I be thrown out of Deadmonton for any reason?
Yes. We do not allow inappropriate behavior, foul language, physical altercations, touching of staff/actors, intoxication or being under the influence of drugs, or weapons of any kind. These rules are enforced for the safety of our staff and patrons. Those in violation of these rules will be asked to leave the property without a refund.
Are the haunted houses the same every year?
No, every year we change the themes of the attractions. Within those attractions, several sets are extensively redesigned with new animations, new scares, and new characters to keep you on your toes!
How to maximize your Deadmonton experience
Pre-purchase your tickets in advance to guarantee your time slot and date.
Try to bring a group of 5. That way you will be going through the show with your group only and not combined with others.
Show up within the time frame you purchased your tickets for.
Plan to enjoy our outside themed compound, with photo ops, actors, amazing food and themed beverages, before, after or in between the attractions.
If your group plans on having a few of our themed cocktails, take an Uber or cab.
Plan on being at Deadmonton for at least 2 hours. There is a wait to enter each show plus the time you'll spend enjoying the food, drinks and entertainment in the compound.
If you DON'T want to wait in line for each individual show, Speed Pass tickets are the way to go.
Dress accordingly. We are open rain or snow and there are no refunds. NO high heels!
Have fun!